Winner: Robert Wagner, LTC (Ret) G43, $1100 Custom Glock only from CHAPTER 1
Winner of the G43!! Robert Wagner LTC
Winner of the 10th Attendee $200 Gift card: Roy Gilmore
Winner of the 20th Attendee $100 Gift card: Ron Hurtado

DANGER CLOSE ARMAMENT GLOCK 43X 9MM SIGNATURE PISTOL – FOLIAGE GREEN/TIN Handgun
Danger Close Armament applied their tried and tested Signature service to the Glock 43X. The DCA treatment of Brain texture with recessed borders provides a rock solid grip on the pistol in all conditions without being overly abrasive. The frame is finished in Foliage Green Cerakote giving the pistol a 2 tone frame. The DCA Glock 43X slide milling package includes top cocking serrations, providing enhanced traction, and features slide porting. The slide is then finished with an extremely durable DLC coating. A cohesive and functional Glock 43X package.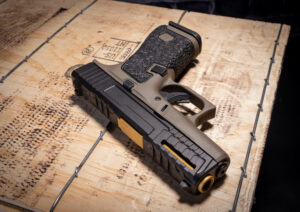 Signature Frame Package
2 Tone Frame
DCA Glock 43 slide milling package
DLC slide coating
Specifications:
Length (Overall)**165 mm | 6.50 inch
Slide Length154 mm | 6.06 inch
Width (Overall)28 mm | 1.10 inch
Slide Width22 mm | 0.87 inch
Height incl.Mag.128 mm | 5.04 inch
Line of Sight (Polymer)133 mm | 5.24 inch
Line of Sight (Steel)132 mm | 5.20 inch
Line of Sight (GNS)131 mm | 5.16 inch
Trigger Distance**67 mm | 2.64 inch
Shareable link here: Please email or post to friends to assist our chapter..
CLICK THE LINK BELOW TO ENTER THE RAFFLE
**Previous winners**:  https://www.facebook.com/100002950150160/videos/2257121744396142/
https://www.facebook.com/groups/sigholtz/permalink/363495584559201/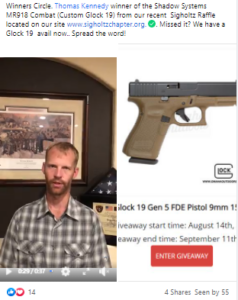 https://www.facebook.com/100002950150160/videos/2257090617732588